Here we will list product on the market that are best for smoking with.
7 Pipe

7 Pipe agrees with Apple's design mantra: think of cool products, and let the engineers figure out how to make them. When we dreamt up a lighter pipe with glass inside, we were not sure it was possible. In fact, some thought it was impossible. A year and a half of R&D later, we finally had a working prototype. Time moves fast, and we are already on our second generation of the 7Pipe, called the 7Pipe Pro. Please read on to see how we improved an already revolutionary product.

The
AllIn1E™
Smoking System combines many features into a modern and attractive package at the same price, or less, of common dugouts. Not only is the AllIn1E™ incredibly strong and durable, but it is extremely user friendly.
The Allin1E is a discreet and modern solution for any smoker. Compact and self contained, the Allin1E Has it all when you need it.

The idea behind the Click A Toke flawlessly designed pipe is the pipe and lighter are incorporated into one convenient masterpiece. The pipe will come brand new, with all parts individually wrapped in a silver metal cigar case designed to house the pipe perfectly. Never search for a lighter or matches again. NOTE: THIS IS NOT A VAPORIZER

The Protopipe type pipe is the Ultimate smoker's travel pipe! Swivel bowl lid. Built-in pipe poker and storage. This pipe is known for its portability and ease of use.  Highly sought after!
–

Many smokers light up out of habit and without a second thought. The
Smokout
smoking system's Smokeless Cigarette allows only a single puff at a time and makes cigarette smokers conscious of each and every puff they take.
–
–

The 
Universal 2 Sided Dugout by Tactical Hit Company 
made right here in the US is a down right powerhouse when it comes to dugouts. Forget the standard wood finish you may be used to seeing and replace that with Tactical's aircraft grade anodized aluminum casing, as well as anodized aluminum turn tops on both the top and bottom of the dugout.

The Universal 2 Sided Dugout Mini
by Tactical Hit Company is a step forward in how you smoke on the go. Don't bother messing around with the old standard wooden dugouts of the past, these heavy duty anodized aircraft aluminum dugouts have everything you need and more for a quick and efficient smoking experience.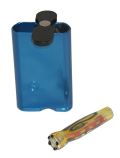 Tactical Hit
Company wowed us with their first line of universal 2 sided dugouts, now they are back again with something even better.  Made right here in the US, these super durable anodized aircraft grade aluminum dugouts are hands down the toughest out there, protecting your material inside as well as the glass bat.